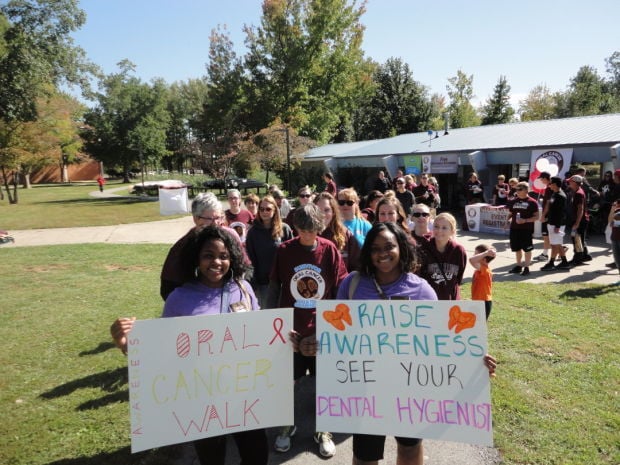 Southern Illinois Dental Hygienists' Society #12, along with the Oral Cancer Foundation held the first annual Oral Cancer Walk for Awareness on October 5 at Southern Illinois University's Campus Lake.
Area hygienists, students and faculty from SIUC and John A. Logan College dental hygiene programs, local dentists, community members and oral cancer survivors were present to participate in the walk and to help bring awareness to a terrible disease with a high mortality rate.
You have free articles remaining.
It was also a time to reflect on the lives lost to this disease and to celebrate the successful treatment and survival of people who have triumphed over the disease. Members of the SIUC baseball team were present to walk in honor of Coach Dan Callahan who passed away due to oral cancer in 2010.
Dr. Dan Massie, a dentist from Carbondale, shared a touching story about an oral cancer survivor and how screening and early detection were critical to a successful end result. 
The 2014 Oral Cancer Foundation Walk for Awareness in Southern Illinois raised approximately $7,000. These funds will be used to reduce suffering and save lives through advocacy, research, prevention, and patient support activities.