Director says IDNR needs help after budget halved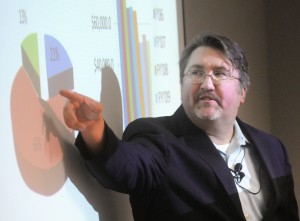 February 03, 2012 12:45 am
•
CARTERVILLE - Marc Miller, director of the Illinois Department of Natural Resources, was blunt about the condition of his agency during a two-hour public meeting at John A. Logan College Thursday.
"Our agency has essentially been cut in half over the last decade," he said. "There are a lot of ramifications. People need to be engaged and involved so we can find a solution."
Miller spoke to nearly 150 people. He appeared on behalf of the Partners for Parks and Wildlife, a group dedicated to securing funding for the IDNR.
The agency's budget has been slashed from $106.8 million to $48.9 million this fiscal year. The proposed budget calls for another 10 percent cut next year. If that cut goes into effect the agency will begin the year with a $22 million deficit.
If those cuts become reality, ramifications will be readily visible. As an example, he said Illinois Beach State Park, which has more than two million visitors a year, used to have a staff of 26. Now, there are five.
"Seventy-seven percent of our budget is spent on operations," Miller said. We have cut travel and communications. Our money is going to people. Everything else is down to slivers.
"You're going to see a noticeable difference in the maintenance. It won't be the fault of the people that work for us. It will be because we don't have the resources."
The additional cuts would make it impossible for the agency to replace an aging fleet of vehicles, make needed repairs to state facilities, and would mean the end of things like the ENTICE program or Outdoor Illinois magazine.
"What we are looking for is a sustainable solution," he said. "We want to get to the point of having revenue we can count on to plan and to be able to do the programs we're supposed to do for the public."
While the numbers and the scenario Miller presented were grim, he did hold out a glimmer of hope. There is hope that state Rep. Frank Mautino, D- Spring Valley, will have a bill on the floor of the legislature this session that would provide sustainable funding for the agency.
Miller said the bill will not contain a dedicated sales tax like the Missouri model, but added he could say little else about the possible legislation.
"It's Frank's bill," he said. "Nothing in the building is off the table. Because it's not our bill, we can't answer that question.
"We're going to have to piece it together from a lot of different sources and Frank will."
Miller then asked for the public's support.
"Our DNR employees can work themselves ragged," he said. "Unless citizens will come through for the agency and work for all the things we do, we're never going to get anywhere.
"We need to have resources. The only way that is going to happen is if people like you get engaged and go out and do something about it."
After his financial presentation Miller answered questions for nearly 90 minutes.
les.winkeler@thesouthern.com/618-351-5088